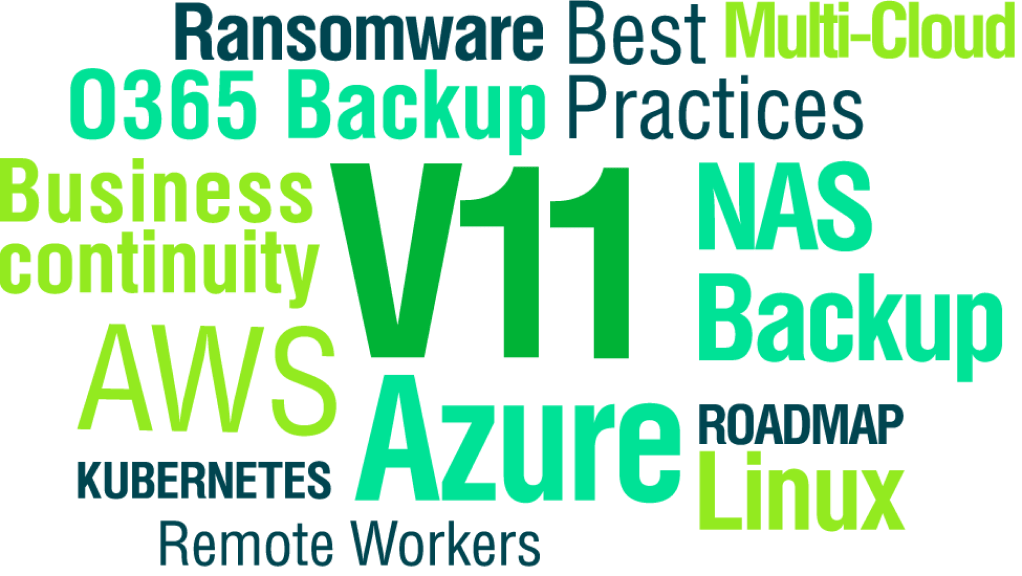 Veeam v11a et plus encore !
Veeam v11a et plus encore !
Bonjour à tous,
C'est parti pour une vague de mise à jour pour de nombreux produits. On y retrouve :
Veeam Backup for Nutanix AHV v3

Note : si vous passez VBR en V11a :
Ne faite pas d'upgrade de repository depuis WS 2019 vers WS 2022, le driver ReFS subit des regressions
N'hésitez pas à cliquer sur les liens ci-dessus pour accéder directement aux KBs.
Voici un résumé des nouveautés.
Veeam Backup & Replication :
Support de nouvelle version :
Microsoft Windows Server 2022 and Microsoft Windows 10 21H1
Microsoft Windows 11 en cours de validation
Microsoft Azure Stack HCI version 21H2
RHEL/CentOS 8.4, Ubuntu 21.04, Debian 11, SLES 15 SP3, OpenSUSE Leap 15.3, Fedora 34 distributions are now supported as guest OS
VMware Cloud Director 10.3 support
VMware VMC 15 support
VMware vSphere 7.0 U3  en cours de validation
Nouvel hyperviseur : Veeam Backup & Replication v11a offers reliable integrated backup for Red Hat Virtualization (RHV) 4.4.7
Amélioration du CDP : vSAN and VVol support + optimisation des flux entre les proxy
Rental licence : soumission automatique le 6 du mois et non plus le 11
Veeam Service Provider Console
Intégration avec PULSE pour la génération automatique de licences
Remontées des usages de licence Veeam One & Veeam Backup for O365
Possibilité pour les resellers de générer eux-même leurs licences
Support pour une authentification externe via SAML
Support pour le scenario Hosted (IaaS)
Support pour AHV
Remote PowerShell
Veeam Backup for GCP
The ability to natively protect Google Cloud Platform (GCP) using Veeam Backup and Replication via integration with Veeam Backup for Google Cloud Platform
Direct restore ANY Veeam backup to GCP, ideal for disaster recovery, migrations, dev/test and more
Veeam Backup for Azure/AWS
Support d'Amazon EFS file systems
Sauvegarde d'Azure SQL Databases
Protection contre les ransomware : integrations with AWS Key Management Service (AWS KMS) and Azure Key Vault.
Intégration avec les tiers d'archivage Amazon S3 Glacier, S3 Glacier Deep Archive, Azure Archive Storage and Google Cloud Archive Storage
Intégration des repository VBR dans Kasten K10 
Visibilité des jobs Kasten K10 dans VBR
Agents
Support for Windows 10 21H1 and Windows Server 2022.
Protection group pour les agents IBM AIX and Oracle Solaris
Instant recovery of image-level backups created by ANY Veeam product to a Nutanix AHV VM
Veeam One
Support for Veeam Backup for Google Cloud Platform with alarms and reports to help you track and measure the efficacy of your cloud-native backups.
A new view into immutability, further helping you mitigate against malicious activity from cyberthreats.
Support for Veeam Agents for IBM AIX and Oracle Solaris with unified monitoring, reporting, and alerting capabilities.